Bentley announces the receipt of the CE Mark for its BeYond venous Self-Expanding Stent System, launching it first for commercial sale and clinical use in Europe. The launch will be limited to an exclusive circle of leading venous experts to gain first-hand experience with this novel device. A full availability is expected for beginning of 2021.
The BeYond is an open-cell Nitinol stent, indicated for acute and chronic symptomatic obstructions of the femoral or iliac vein. It comes with a wide range of diameters from 10 to 18 mm and lengths up to 150 mm. With its optimized balance between radial force and flexibility, the BeYond allows accurate positioning and exact landing zones in venous interventions.
As a result of thrombosis, venous obstruction is a wide-spread disease. Together with heart attack and stroke, it is the leading cause of death in Western Europe. In Germany alone, more than 100.000 people die annually from the consequences of venous thrombosis. The endovascular therapy for venous disease has developed rapidly in the past few years, especially with the development of dedicated venous stent systems that meet the special requirements of the venous system.
"Although there are already products on the market that seem to be developed especially for veins, Bentley got the clinical feedback that these stents are not ideal yet – either they are too stiff or too flexible, both of which can reduce patient outcomes." states Martijn Nugteren, Director Sales & Marketing at Bentley. "To overcome current shortcomings, we put the best of both worlds into the design of the BeYond venous."
Venous stenting is proven to have a positive impact on the quality of life, especially of young and active people. The BeYond venous is designed to respect the natural venous anatomy to ensure the optimal balance between radial force, flexibility and deployment behaviour.
Contact: Kerstin Stotz, Communication & Event Coordinator, K.Stotz@bentley.global, +49 7471 984 995 59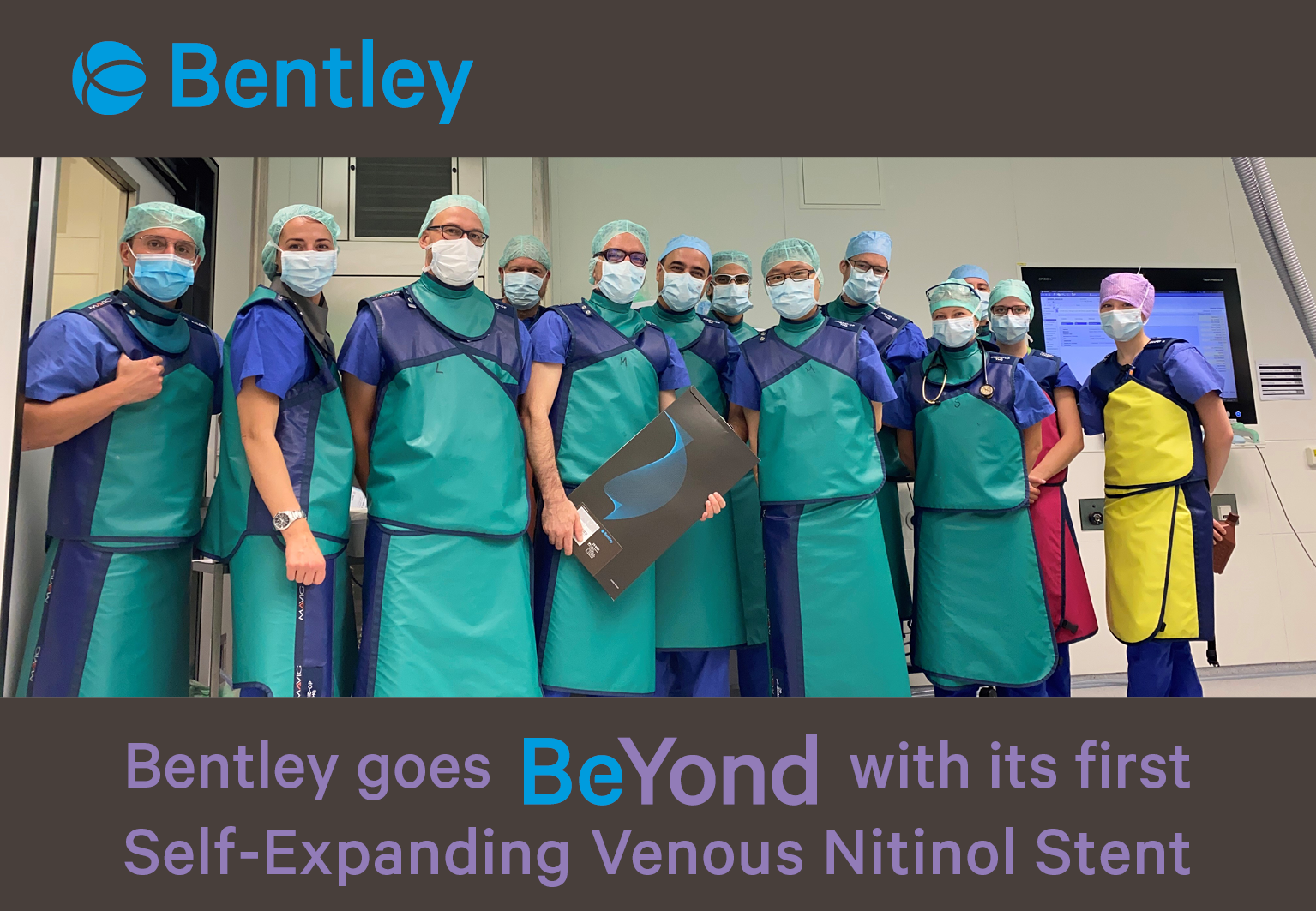 First-in-Man of the BeYond Venous Stent performed in the European Venous Centre Aachen-Maastricht by Dr. Houman Jalaie, Mohammad Barbati, Dr. Long (China) & Philippe Charbonneau (Montréal/ Canada).